Muscimol Wholesale and Private Label
Muscimol, which is the psychoactive compound in amanita mushrooms, has been extremely sought after by distributors, shops, and consumers throughout the United States due its incredible effects. However, products that only contain isolate muscimol have been extremely hard to find... until now!
Terpfusion is excited to be able to now offer wholesale & private label isolate muscimol products. These rare, amazing product are completely clean of the ibotanic acid typically found in amanita mushrooms.

Since the muscimol is completely isolated, it makes for a blissful consumpion experience when consuming in small doses. These contain at most 5mg of isolate muscimol per serving -- which is a standard dosage on the market for people to feel optimum effects. Enjoy offering your customer base private label muscimol gummies, chocolates, and more!
Businesses across the USA partner with Terpfusion to accomplish their product-development and manufacturing needs. We are proud to be one of the first-to-market on this new category of counterculture products and strive to only offer safe, effective, and affordable muscimol gummies to our clients.
Call +1-800-210-9475 or click the button below to learn more and see how we can help with your muscimol project today!
Isolate Muscimol that is free of harmful acids.
In-House Design team that can help bring your project to life!
Call +1-800-210-9475 to speak with an account manager!
---
Why should you start selling private label muscimol products?
Brand new product category
Muscimol and similar mushroom products is a huge emerging category that could potentially grow into a huge market around the USA. Sieze the opportunity and be one of the first companies to offer a brand of these effective products to your customers.
---
Delicious and Unique Gummy Flavors
Terpfusion manufactures 200k+ pectin gummies/day in-house and formulate all of our flavor combinations. Enjoy dozen of flavor options that can be made specifically for your muscimol project. CLICK HERE TO VIEW POPULAR FLAVORS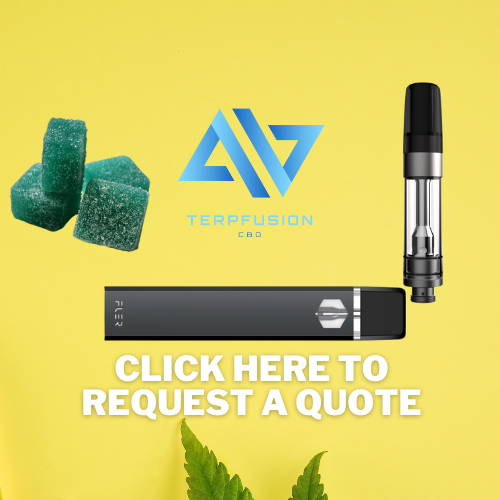 All of our wholesale muscimol products contain ZERO ibotanic acid-- which is a harmful acid found in most amanita mushrooms.
Enjoy the blissful euphoria of these delicious gummies without compromise.
---
Excellent Euphoric Effects
The effects of muscimol is very similar to what you'd expect. Enjoy feelings of excitement, awe, and euphoria. However, a small amount goes a long way -- so do not overdo eating too many muscimol gummies. We recommend, at most, 5mgs per day.
Interested in learning more? Email sales@terpfusioncbd.com or click the chat icon below to quickly speak with a representative!
Private Label Muscmiol Product Options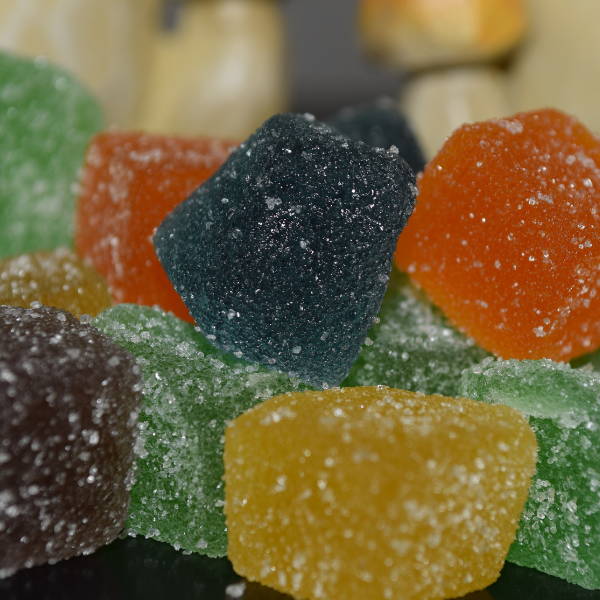 Wholesale Muscmol Gummies
With over 50 different flavor options, doing a private label muscimol gummy project through Terpfusion is an opportunity to make your brand stand out. Enjoy flavors such as tropical pineapple, strawberry lemonade, and more. We produce 200k+ pectin gummies daily at our facility -- so we can keep up with even the largest projects!
Ask us about adding other functional mushroom extracts (such as lions mane or reishi) to make your wholesale muscimol gummy line really stand out.
Wholesale Muscimol Chocolates
We're partnering with a leading CBD confectionary manufacturer to offer delicious muscimol chocolate bars. Enjoy choosing from milk, dark, or white bars with 10 pcs. of chocolate squares -- each infused with a perfect dose of this amazing mushroom extract!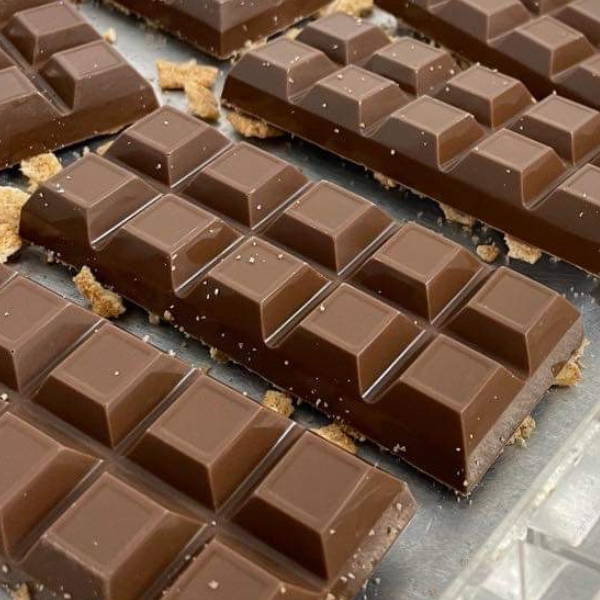 Important Muscimol Dosing Information and Disclaimer
Dose for an average 150 lb male would be anywhere from 8-13mg. But based on tolerance and ability to process the drug the active dose can be as small as 1mg and as high as 15mg (dangerous doses can be in the 100-150mg range or more, careful not to overdo). It is important to convey to your customers and on your packaging the importance of starting with a very low dose to determine tolerance.
Why Choose Terpfusion as your Private Label Muscimol Product Manufacturer?
Dedicated Account Executive
All of our clients have direct access to an experienced account executive that is very familiar with you and your business.
Reasonable & Transparent Turnaround Times
We pride ourselves on getting all of our custom products to our clients quickly and safely! We pack all of our packages discretely and ship via UPS, FedEx, or a freight provider. When needed, we also offer cool-pack shipping for an additional charge to protect chocolate during the summer months.
Businesses around the country have trusted Terpfusion for years to handle manufacturing products for their brands! We work hard for 100+ businesses everyday and will do the same for yours!
Carefully Crafted and Source
We've spent years perfecting our SOPs to make the perfect CBD and other hemp edibles. We're using transferring this knowledge to our wholesale muscimol products. Enjoy carefully dosed gummies made by professionals with years of experience.
Want to Private Label Muscimol for your customers?
Fill out the form below with more information. An Account Executive will be in touch right away!
Reach us for Wholesale & Private Label Inquiries