THC-P PRIVATE LABEL & WHOLESALE
THCP is an exotic, rare cannabinoid that is well-known for it's extreme potency and sought-after effects. Terpfusion proudly partners with business owners and helps them offer high-quality THC-P products to their customers.
Shop THCP wholesale or get a quote about creating your own private label brand.

Just plug into any 510-thread battery and enjoy! Enjoy in a premium THCP cartridge that's enriched with our high-quality distillate.
---

Made from scratch and manufactured in-house at our licensed hemp Facility -- these delicious bulk THC-P gummies are potent & effective. We manufacture over 200k+ gummies per day, making for quick turnaround times for small or larger customers. Enjoy your wholesale THCP gummy order in bulk or utilize our in-house packaging services.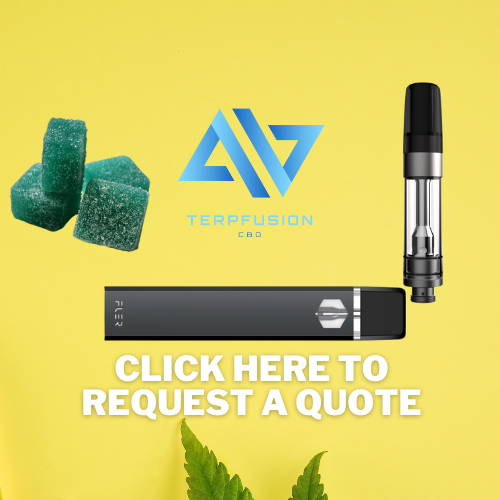 Custom THC-P Disposable Pens
Same as the cartridge -- just no external battery required! Private label these THCP dispoasbles products in mylar bag or in 1 of our many eye-catching box packaging options.
---

Custom THC-P Concentrates
Terpfusion CBD uniquely makes a selection of THCP concentrates. Offer Budder, Wax, Shatter, and more! Order in bulk or have us package these in an assortment of containers.
Looking for more information on Wholesale THCP?
Shoot us a message and someone from our team will be in touch right away!
Contact us for THC-P Wholesale or Private Label Inquiries