Posted by Jason W. on Jun 25th 2020
How to Start Your Own CBD Brand
If you found this page, it's probably because you've been thinking about what it'd be like to start your own CBD brand - to see your vision come to life.
You might be someone who already has a brand with a logo, and know exactly what products you want. Or, you could be someone who just loves CBD and wants to start their own brand to share with your current customers, friends, family, and any other sweet deals you land.
Whatever stage of the process you're in, I hope you find some of this information useful.
So, where do you begin?
Do you design the logo first? Pick what products you want to sell? Call around and ask for quotes?
How DO you decide what products to sell? Do you want full spectrum or broad spectrum, or isolate?
These are the types of questions I'll be answering for you as you think about starting your own CBD brand.
Here's how I'd start –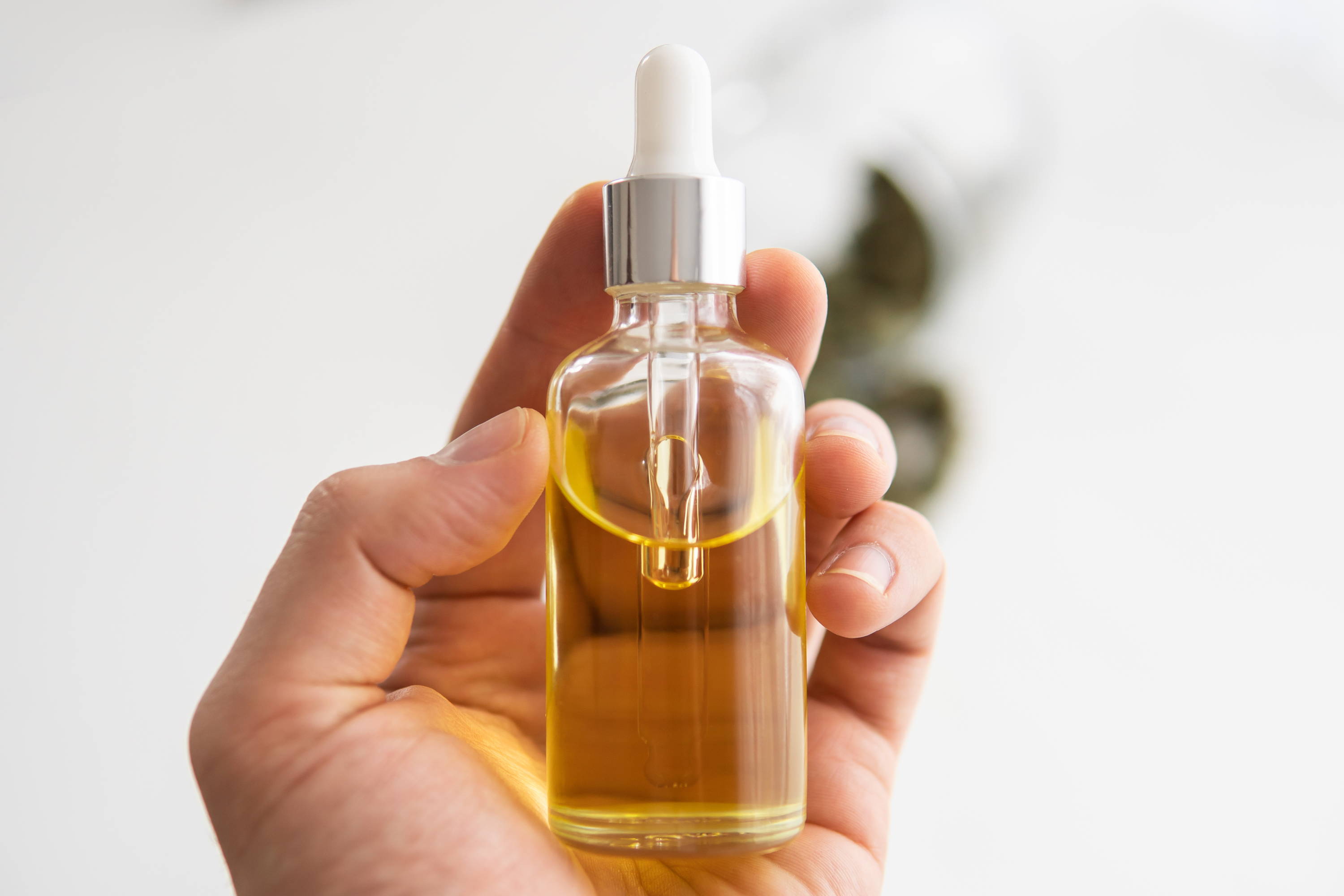 First, decide what products you want manufactured. Everything is about the products, so starting there is never a bad idea.
After all, the type of products you want will be the biggest determining factor on price. Decide if you want your products made with full spectrum, broad spectrum, or isolate CBD.
Do you want tinctures, topicals, gummies, e-liquid?
A full spectrum solution is one where as many cannabinoids, terpenes, and other essential vitamins are present as possible, leaving out all heavy waxes, oils, and solvents.
Full spectrum solutions will contain up to 0.3% THC and are susceptible to showing positive for THC on drug tests. So, if you want to offer your customers something they can't fail a drug test on while using, then a broad or isolate CBD will be the better choice.
Just keep in mind that full spectrum CBD products are typically the most sought after because they lead to the "entourage effect." This is where all the parts of the plant work synergistically together to give you the best possible result.
A broad spectrum CBD usually contains zero percent THC, but will have added terpenes and/or cannabinoids, like CBG or CBC.
Most people love tinctures because they are very powerful and can absorb a great amount of cannabinoids (high efficacy). So, it'd be a good idea to have tinctures in your brand's arsenal.
However, if you're thinking more of developing a unique product that's not a top five most popular CBD product, then keep reading to see an example of one Terpfusion CBD developed for the alcohol market.
Second, make a list of what MG levels you want for each product. If it's a tincture, do you want fifty 500MGs of full spectrum CBD and fifty 1000MGs of full spectrum CBD. Do you want to throw some isolate CBD in there for good measure? Maybe some terpenes?
There's a lot of customization that can take place now with CBD products. For instance, CBC and CBG are becoming popular cannabinoids in the hemp market. Because of this, you can now infuse your products with isolate forms of these.
You can spend some time researching what types of popular cannabinoids there are other than CBD that you could create a product with, or add to a full or broad spectrum solution.
What if you want a unique product developed other than the most popular CBD products on the market right now? Ever heard of CBeerD? It's a unique 4 ml hemp shot designed to infuse your beer with CBD.
Just keep in mind that anything you add will increase the price. If you're unsure, it might be easier to start with full-spectrum and isolate.
Once you finish these two steps, you're literally halfway there.
What you're basically doing is building a product plan to present to manufacturers.
This is something that you can take to any manufacturer and show them so they can give you the best quote, and as easily as possible.
Next, put together a text, or spreadsheet document that lays out the products you want and what solution you want them made with (isolate, broad, or full spectrum). Once you're finished, it'll look something like this: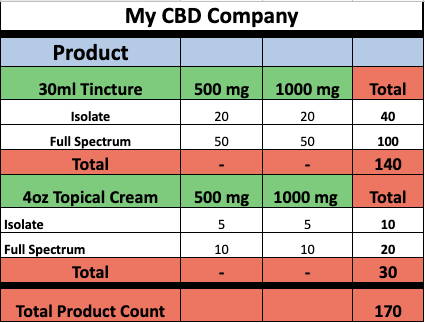 This is just a general idea to get you started.
If you want to include other ingredients like CBG, CBC, or additional terpenes, you can add them in a separate column next to the mg levels and just use a checkmark or a simple "yes" to let them know that you'd like to include the extra ingredient.
You can discuss the specific amount when you have a phone call with the manufacturer.
Product logo and label design

Now that you have your spreadsheet of products you'd like to get manufactured, you can move on to your design. Finally, the fun part. Unless of course you love making spreadsheets, then I apologize.
Your manufacturer is going to want to know if you have a logo for the labels, or if you already have a label designed.
If you don't know any designers, and don't want to spend hours trying to find the right one, then it might be easier to use the manufacturer's in house designer. The design fees are usually not that bad because they're not solely a design firm, so they're able to charge less.
Terpfusion CBD has an in house designer with years of experience to help get you up and running.
However, there are online sources you can use to hire someone to design a logo and label for you. Upwork.com and Fiverr.com are a great place to start.
Ok, you have what products you want. You have a game plan for the label design. You're really on your way to starting your own CBD brand.
What's next?
This can be a very important part because it could lead to higher costs, but it could also lead to a more professional look and a greater chance at getting seen and wanted…
Packaging.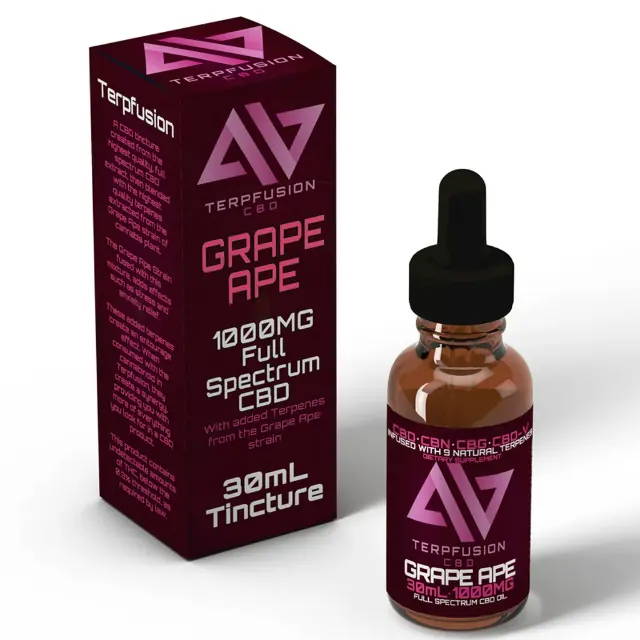 What do you want to put your brand new products in?
Some choose to go with just a nice looking label for their tinctures, and not use a box or other container.
However, if you want to stand out from the crowd a little better, a box or sleek container can do the trick nicely.
These are generally the top 5 requirements for a product plan and will go a long way to keeping you organized. If you're really serious about starting your own CBD brand, you'll at least need to figure out the first two steps.
Ready to start your own CBD brand?
With your finished product plan in place, you can now start requesting quotes from companies to get an idea of cost. Most companies have contact forms on their website to make this process simple.
A lot of companies will ask you for your budget up front to help them put together a plan that resonates best with yours at the budget you're trying to stay in. Of course, you can keep this to yourself, but expect at least a minimum of $1,000USD.
Terpfusion CBD can help with the entire process of your CBD brand development. With a professional research and development team, Terpfusion CBD can assist with private label and product manufacturing, warehousing and shipping logistics, and unique CBD product development.
Good luck on your new venture!